---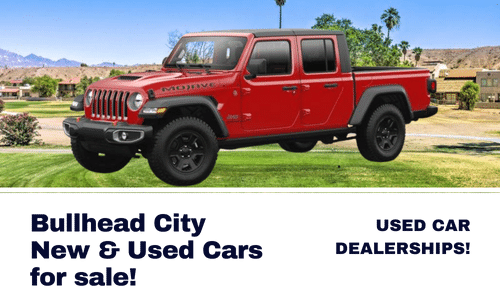 New & Used Car Dealerships Near Bullhead City
Add My Listing - Click Here!
---
---
Sell Your Auto Online
Do you want to know how to sell your auto online? Auto listings online are exploding with more people than ever are shopping online and the new trend of searching online for local car deals has skyrocketed during Covid-19.
Amber in this video explains why auto listings are resulting in more car sales of sale-by-owner vehicles.
Auto listings will produce a great ROI (return on investment). For example, for a limited time, you can place auto listings for $1.00 for 1 week. That breaks down to only $4.00 per month to list your auto for sale.
Auto listing categories:
Antique Cars
Commercial Vehicles
Domestic Cars
Farm Vehicles
Import Cars
Motorcycles
ATV's
Recreational Vehicles
Suv's
Trucks
Follow these tips and you will sell your auto or used car FAST! Make money selling your used car.
Preparation - Preparing your Auto to sell quickly.
1. Maintenance make sure your auto for sale runs great. i.e. oil changes, new tires, windshield wipers are working. You should keep receipts for new tire purchases, oil changes, and any maintenance you may have paid for remember you are selling a used car. This makes your potential buyer really pleased to see that you have kept your vehicle in tip-top running condition. We live in the desert, insure the buyer that the AC is running great and your used car for sale is running great.
2. Detail - Get your auto cleaned by a professional - get it detailed - if you can do it yourself, that is great. You want to make sure your auto shines on the outside and on the inside. You want to come as close to possible to creating that "new car" smell. You may like this: https://amzn.to/3HKIA3Z
Car Care - https://amzn.to/3JjBWSJ
KMSCO Car Air Fresheners Scents
You May Like This - Click Here!

Learn How to Take Care of Your Car to Keep It in Tip-Top Condition for as Long as Possible While also Reducing the Bills Considerably.
Auto Log Book - If you want to make money flipping autos - you might want to keep an auto logbook to show to potential buyers of your auto for sale. Keep track of mileage, maintenance costs, repairs, and other essentials with this compact auto logbook. Easy to use -- makes on-the-go recording a snap. Small enough to fit in glove compartment or pocket. - https://amzn.to/34wlksg
3. Photos - Make sure you take plenty of great pictures of your vehicle to post with your auto listing. Once you have registered a free account at Bullhead City Guide., you are now ready to complete the Auto Listing form and to upload your photos. You can submit up to 10 photos of the vehicle you are selling. And the description is very important and the Auto Listing form covers every feature your auto may have, additionally you can add a written description.
Video Ad - This is a game-changer - You can have a 30 to 60-second video ad created as a bonus for registering a business directory account at Bullhead City Guide. Video Ads work. If you are flipping autos for profit - using Video Ads is a no-brainer.
Learn more - https://bit.ly/3DrDbN3
For small business owners - Bullhead City Guide provides amazing resources to help mom and pop businesses market effectively online.
---