You Will Love Cool-jams™ Wicking Sleepwear
---
---
ALL OF Cool-jams™PRODUCTS ARE DESIGNED TO HELP PROVIDE YOU WITH THE DEEP, RESTFUL RESTORATIVE SLEEP THAT YOU DESERVE.
Cool-jams™ wicking sleepwear is made with Cool-jams high-tech, proprietary fabric that wicks away moisture and prevents the growth of odor-causing bacteria so you wake up feeling fresh and well-rested. If you frequently sweat during the night, the ideal solution to your sleeping woes is a pair of stylish and comfortable moisture-wicking Cool-jams™ cooling PJs - Browse our collection now - click here!
Ladies these top-rated pajamas for night sweats come in a wide variety of styles and sizes for men and women, and because they are made with our patented temperature-regulating fabric, they're appropriate for wear in hot climates. Cool-jams™ men's and women's moisture-wicking sleepwear comes in soft, soothing colors and feel just like lightweight cotton.
Browse Cool-jams entire selection and you'll find options with long pants, loose shorts, tank tops and T-shirts as well as button-down shirts for a more traditional look.
Ladies & men you may purchase a matching set or opt for separates to create a pair of custom pajamas just for your sleeping style.
The Cool-jams™ men's and women's moisture-wicking sleepwear selection even includes bathrobes to throw on over your pajamas in the morning as well as travel-friendly pajamas that are compact, lightweight and wrinkle-resistant. Cool-jams™ promises great deals and always includes a satisfaction guarantee with every single sleepwear order to ensure that you're completely pleased with your cooling PJs purchase.
You must visit Cool-jams™ website and be amazed what is availble for men and women not only in sleepwear but also bedding for the bedroom.
---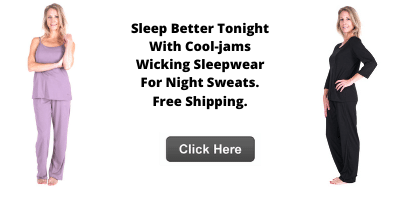 You will love Cool Jams! The perfect pajams for the lady that loves a great peaceful night sleep.
---
---
---