Grow Your Small Business with Today's 15 second videos
- Video Ads #Shorts -

Add Your Free Business Listing and Receive a 15 second Video Ad as a Bonus!
Generate Leads & Sales - Video Ads Works for you 24/7
Click Jan's Mobile Notary Service banner below to view Jan's business listing. Jan added a photo to her business listing. Advertising locally will generate local leads and sales for your business. Your business listing and video ad will work for you 365 days a year, 24 hours per day. Your ads will generate thousands of daily views for your business. We have mutilple advertising features to help local small business owners level the playing field and get your business online exposure. We provide affordable advertising for small businesses.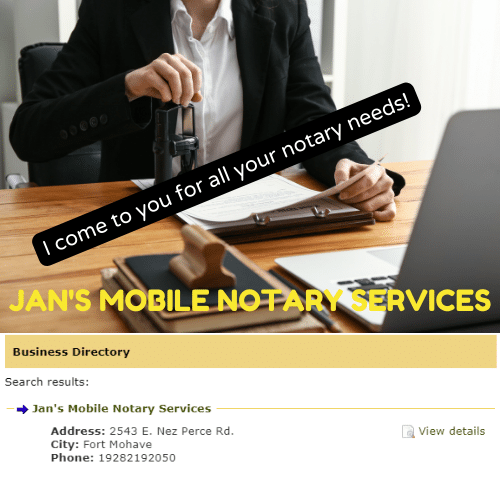 Add Your Business
Adding Your Business Listing
To Add Your Business Listing - You must create a Free members account which inputs your registration into our database. You will receive an account registration email - that will verify your registration. Once you receive your verification email you will be able to add your business listing. You will have 3 options. 1. Free Business Listing & 15 sec. Video Ad 2. Basic Package 3. Premium Package (Note: Pay yearly for a Basic or Premium Package and receive a 15 sec. Video Ad and a Landing Page.
Look to the right - under Business Management - click the add my business button. Thank You for registering your business.