---
Getting Registered!
Let's Get You Registered - Click Here!
1. Click the "Register" button to your right.
2. Complete the user detail form (Username & Password is case sensitive).
3. Click the "Register" button. You will then be sent an E-mail message with instructions for activating your account
.4. Click the link in your E-mail message to confirm and activate your account.
Note: Now that you are a register user, you will be able to post your business to the business directory. Click here - FAQ's!
Registration Benefits - When you register an account you will be able to use many of the tools and marketing resources below for your business - Your restaurant must be listed in the directory in order to use this option. You must check the "include restaurant menu" option within your business listing details when listing your restaurant. Once your business is successfully listed in our directory - the restaurant menus feature icon should be visible in your user control panel. (Contact Us if you require support - info@bhcguide.com)
This section will allow restaurants owners to create an online menu for visitors to browse. Please Click here to view the User's Guide Menus tutorial!
Price List
This section will allow you to list items or services you offer for visitors to browse. Once you have a business listed in our directory, you are able to add in a price list. Note: Users who have a Standard or Premium Business Listing in our directory can access and utilize this feature. Click here to view the User's Guide - Price List.
Articles
The Articles section is where you can submit an article about your business. You can make your article really interesting my adding photos. Click here - to view the User's Guide Tutorial.
Events Calendar
Does Your business have an up coming event you would like to post on our Events Calendar? Post it in our local Events Calendar for Free!
Click here to post your event. To enter an event: Click on the number of the date you wish to post the event for. Then simply complete the entry.
Auto Sales Listing
The Cost to list Your Auto or Autos for Sale is 1.00 per week. You must register a free account to use this feature. Click here to view our Auto Listing form.
Invoices
The invoice section shows you payments made, as well as payments due. You will be able to track all your payments here. Click here to view our User's Guide - Invoice.
Account
The Account section allows you to update some of your personal information associated with our directory. In the account section you will be able to edit/change your password or change your display name. If you need to modify your email address or username, please ccontact the site administrator. All email changes must be verified to be a legitimate email associated with you for security reasons.
FAQ's - Frequently Asked Questions.
To Register - Click Here!
Your ads will be working for you 365 days a year, 24 hours a day, and you can update your ad description, change prices, ad banners and more at anytime.
Special!
Get Acquainted Offer - Premium Ad Listing 50% Savings!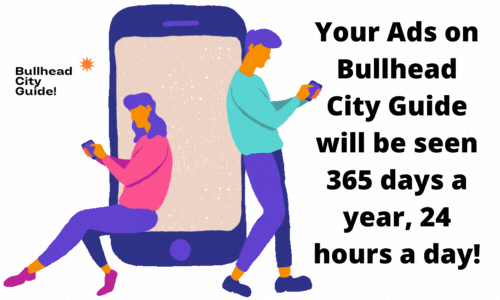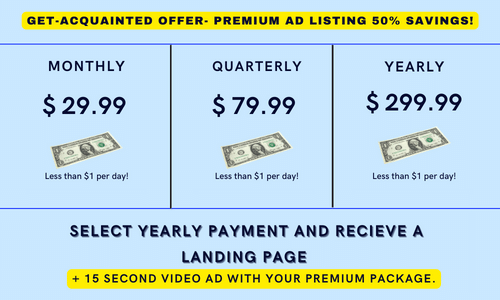 Premium Package
Includes:
Business listing in up to 5 categories
Up to 10 image(s)
Option to embed YouTube video in business listing
Description of up to 25000 characters
Link to your web site
1 free banner ad(s) (with monthly subscription)
12 free banner ad(s) (with yearly subscription)
12 free coupons(s)
Free Bold upgrade
Package Pricing:
Monthly - $29.99 - Quarterly - $79.99 - Yearly - $299.99
Pay Yearly - $299.99 and as a bonus, receive a 15 second video ad and landing page with your premium package. You are probably thinking to yourself, really a 15 second video is going to find me new customers and sales.
The Incredible Value of a 15 second video!
15 second Video Ad - Click Here!
Bullhead City Guide is in pre-launch, we will launch our website officially on October 15, 2022. Bullhead City Guide became a member of the Bullhead City Chamber on July 1, 2022. We feel so strongly about the chamber and the businesses and professionals who join that we offer "chamber member" only rates on our services.
Let me tell you about the marketing value of our 15 second video to help you generate new customers and sales for your business or service. Let's review the pre-launch 15 second video ad we created for our presentation to the marketing department at Don Laughlin's Resort Hotel & Casino. This is an example of the landing page and video that we will create for your business.
How Much Does A Video Ad Cost?
We can help local small and medium size businesses to generate leads and new customers. Costs can range anywhere from $1,200 for a basic video, to $50,000 for a premium video. Our yearly get-acquainted offer is only $299.99 with a landing page and video ad included.
Click on The Prime Rib Room video - Click Here!
The Prime Rib Room is a beautiful setting for a river view restaurant off the Colorado River. During dinner, I shot the 15 second video with my Apple iphone 11. Our staff shoots all our photos and videos using our Apple iphones and ipads, and you can too. Shop the products we use to shoot our photographs and videos. Visit the Bullhead City Guide Amazon Storefront - click here! When you purchase your Premium Package our staff will contact you to find out what your ad objective is and the information you would like to include in your video ad. It's about a 4 to 5 day process. Our goal is to provide you with the results you want.
In the Prime Rib Room video ad you will notice the call-for-action is to generate new customers by having them phone in to make a reservation. This video ad will appear on Bullhead City Guide 365 days a year, 24 hours a day. Your marketing budget per day is less than $1.00 a day. A subtle thing you might not be aware of viewing the video. In order to view the reservation times and phone number, the visitor must play the video again to gather the reservation information. What does that mean? It means the surfer is possibllyinterested in making a reservation. The short video with the festive crown chatter is an attention grabber.
Drive down Highway 95 in Bullhead City and you will see 100's of advertising flags along the highway, you will see electronic billboards, signs and posters in windows, people on street corners in 100 degree temperature waving advertising posters over their heads to attract passing drivers. I really wonder, does that really work? Ok, you see my point: marketing is important to growing your business. No Customers = No Sales!
We create ads that will produce results based on our 35 years of experience marketing online. Our platform is set up to let small and medium size businesses market on any budget. You can create your own banners. Once completed - upload your banner to our banner rotator. Your banner ad will appear on the top or bottom of all pages. You will have total control at all times to update your information when you need to do so. You will be able to write an article about your business, post photos and videos. You will be able to add a price list for your products or services or create coupons. We provide tutorials to help you along the way.
We will create the landing page and video ad for you when you purchase the $299.99 yearly package. You will be able to most post your video link on your Social Media pages and if you have a customer email list - simply add the link to your emails. Post your landing page link on Facebook will produce thousands of local visitors right away for your website. You also will receive thousands of visitors from Bullhead City Guide and that is all for a one time investment of $299.99 for the entire year.
To get started - you must register a free account - once you have registered and receive your confirmation email you are in our database and can now purchase your Premium Package. If you prefer, you may return to this page to make your purchase. Please click here to make your payment after your account has been activated.
If you need additional support click here!
email us: info@bhcguide.com