Meet The Mayor & The City Council - Click Here!
Mayor Tom Brady continues to provide steady leadership to get our city through the once in a lifetime historic pandemic. Back in April Mayor Brady praised the community for working together to migate the spread of Covid-19 in our city. The major who has worked tirelessly since the start of the pandemic outbreak in the state. The mayor's wife tested positive for Covid-19 in December and the mayor and his wife went into quarantine. All is well so the Mayor knows the importance of making sure everyone who wants a vaccine got get a vaccine shot.
d
You Might Like To Review These Links to learn more about what's happening locally as we navigate our way through this COVID-19 Crisis.
1. Fort Mohave Coronavirus Response Hub - This page provides information, maps and resources about the coronavirus and response in our local area. --- Click Here!
2. Centers for Disease Control and Prevention - This page is the bible for health care in America. The CDC sets health policy to protect all our citizens. They set the policies for the coronavirus crisis. --- Click Here!
3. Scientisty - Vaccine Availability & Distribution - On this page it has great articles on the vaccine side effects, which vaccine to take, where to find your vaccine distribution center and much more --- Click Here!
4. COVID-19 Prioritization Phase by Arizona Counties - - On this page you can find out your category for getting your vaccine shot --- Click Here!
5. Bullhead City Council Meeting - This is the Facebook page of the Bullhead City Council. Watch LIVe feeds of Council Meetings --- Click Here!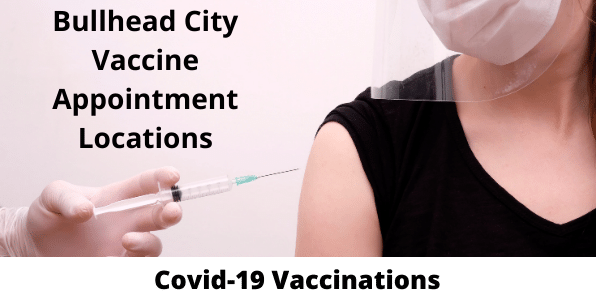 Where Can I Recieve a Covid-19 Vaccination?
Please phone one of the COVID-19 Vaccine Sites listed below.
DeeFlat Pharmacy - 2580 Highway 95, Ste. 106 - Bullhead City, AZ 86442 - Appointment Inquiries: (408) 892-7695
Desert Palms Medical Associates 3015 Highway 95, Suite 105 Bullhead City, AZ 86442 Appointment Inquiries: (928) 763-2001
Fort Mohave - • Safeway Pharmacy 1474 - 4823 South Highway 95 Fort Mohave, AZ 86427 - Appointments: https://mhealthsystem.com/COVID1474 Contact for inquiries: (928) 704-4443 - Comments: Patients will be required to attest to their 1A/1B status.
Valley View Medical Center - 5330 AZ-95 - Fort Mohave, AZ 86426 - Appointment Scheduling or Inquiries: (928) 788-7045 - Please visit their Valley View COVID-19 Website and fill out the form to request a vaccine. Follow the website for instructions on booking an appointment.
---------------------------------------------------------------------