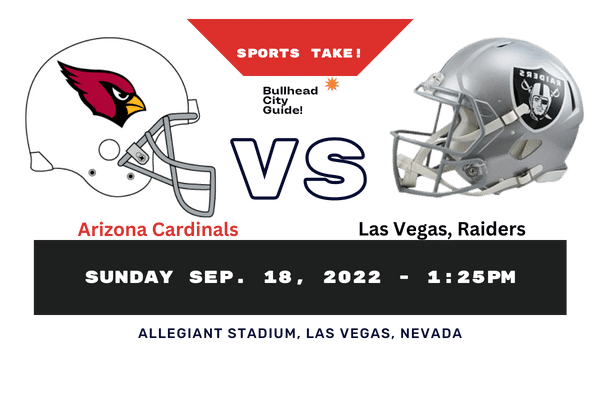 ---
Bullhead City Guide - Sports Take!
It's a long season but each week game is critical. This week the Arizona Cardinals are going up aginst the Las Vegas Raiders. A lose in Las Vegas would put the Cardinals in an 0-2 hole to start the season but with an 18 game schedule surely it's not time to panic, but is it? Last week againt the Patrick McHomes and the Kansas City Chiefs the Cardinals came out flat and McHomes and the Chiefs dominated the game 44 - 21. The game really was not as close as the score indicates.
Kyler Murray did not play like a 130 million dollar quarterback. In fact the Cardinals have lost six of seven games, including the playoffs, dating back to last season. We know it is a long season but from the Cardinals opening game performance this road game to Las Vegas might be just what they need to avert a 0-2 start. Arizona is 12-5 on the road over the past two seasons. Only Kansas City, New Orleans and Tampa Bay have a higher road winning percentage than the Cardinals. This Kyler goes up against Derek Carr it will be interesting. Take the Cardinals to win Sunday just could be a good bet!
Last meeting: Raiders beat Cardinals 23-21 on Nov. 18, 2018, in Arizona.
Last week: Raiders lost 24-19 to Chargers; Cardinals lost to the Chiefs 44-21.
A key matchup in this Sunday's game will be the Cardinals secondary and Raiders Wide receiver Davante Adams. Adams had 10 catches for 141 yards and a touchdown in his Raiders debut after leaving Aaron Rogers and Green Bay. Another key matchup will be ex-Cardinal DE Chandler Jones who was a Cardinal last season has a franchise-record 71 1/2 sacks in six seasons with the Cardinals. Jones 107 1/2 sacks since entering the NFL in 2012 are the most in the league in that span.
Make no doubt about it. The key to a Cardinals win Sunday is Kyler Murray. If Kyler plays well, the Cardinals will win. It's that simple. In the NFL the qurterback position is the key to wins and losts. this is why they get paid the big bucks!
Game Day Tickets Available 2022 -2023 Season
Share - Click Here!
---