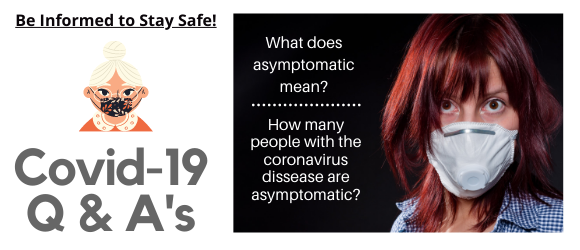 -----------------------------------------------------------------------------------------------
Common Questions
What is the "asymptomatic transmission"?
Asmptomatic transmission refers to transmission of the virus from a person, who does not develop symptoms. There are few reports of laboratory-confirmed cases who are truly asymptomatic transmission. This does not esclude the possibility that it may occur.
Can asymptomatic carriers test positive for covid-19? Do they ever stop spreading the virus?
People who have minimal or no coronavirus (covid-19) can spread the illness. Many people have wondered if those asymptomatic carriers would test positive for the virus. And if they can pass it on to other people without showing systems despite not showing systems, do they ever stop spreading it?
If an asymptomatic person is shedding the virus, which means they could be infecting others, they would test positive. An asymptomatic person will eventually stop shedding the virus, but when that happens or if they can recover and become immune is not known.

Post your pictures of your "furry friend" on our Weekly Pet Post - Click Here!
How does the covid-19 virus spread?
Person-to-person spread
The virus is thought to spread mainly from person to person.
Between persons who are in close contact with one another ( within about 6 feet).
Through respiratory droplets produced whne an in infected person cough or sneezes.
These droplets can land in the mouth or noses of people who are nearby or possibbly be inhale into the lungs.
Can Someone spread the virus without being sick?
Spread is possible before people show sysmtons. People who are not showing sysmtons can still carry the virus and still spread it on to other people.
Spread from contact with contaminated surfaces or objects
It may be possible that a person can get covid-19 by touching a surface or object that has the virus on it and then touching their own mouth, nose or possibly their eyes, but this is not thought to be the main way the virus is trasmitted.
How many covid-19 patients have no sysmtons?
More than you might think. Multiple studies indicate than a significant portion of covid-19 patients are asymptomatic, and that could means the disease's fatality rate is lower than previously thought. That keep in mind that the covid-19 virus is real and we are in a worldwide pandemic and as the disease spreads the higher the infection rate will be and people will die. To stop the spread of the virus we all must wear mask, wash our hands constntly with soap and water or use an alcohol based disinfectant. And yes, we must practice social distancing because the goal is to save as many lives as possible. Wearing mask, washing our hands and practicing social distancing is to help to stop spreading the virus to others. We want to live life as "normal" - unfortunately we are in a historis pandemic crisis and people are dying from contacting the virus. However, we must all work together to get through this crisis together and await the arrival of a vaccine. It's as if someone has clicked a pause button. The horrific "senseless death" of George Floyd which simply stunned the world. It was a moment that will live forever. A death of a common man inspired a moment around the world and unprecedented changes are taking place amid this pandemic. During this time stopping the spread of covid-19 should be a priority.
What do I do if I have been exposed to someone who tested positive for the covid-19 virus?
Do not leave your house or have guest over. Try to self isolate within your home so you want infect others members of your household. Monitor yourself for symtoms like fever, cough and symptoms of shorth breath. If you have any symptoms contact your healthcare provider.